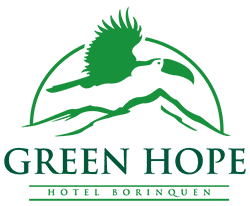 "Green Hope" is committed with our ideologies for a socio-environmental management looking for improving the development. For this reason, we exert ourselves to create an integral balance reaching the success of the company along with the preservation of the environment.
Policies
To provide the staff with updated information about customer service and sustainable development.
To create recycling and waste classification or management programs.
To have a constant improvement in our environmental actions.
To obey the law in force in terms of environmental legislation.
To prevent environmental pollution in our surroundings.
To mitigate the impact in the environment caused by our own activities.
To influence our providers or suppliers, local and external customers' behavior towards our commitment taking care of our natural resources.
To develop projects to improve the environmental quality, our service and the corporate social responsibility.
To support the economy and the culture of the communities.
To create integral training programs for the personnel's development.
Based on Article 8 from the law n° 6084 or Ley de Parques Nacionales, Borinquen Thermal Resort dictates the following: It is prohibited…
To hunt or capture wild animals, to recollect or extract any of our products or any of our remains.
To destroy, stain or provoke any type of damage or harm to plants, equipment or the building.
To recollect or extract rocks, minerals, fossils or any other kind of geological product.
To provoke any kind of environmental pollution.
To feed or provide drinks to the animals.